Hello!
Welcome to Richard and Helena's rowing-the-Atlantic-in-aid-of-St-Mungo's-and-the-Huntington's-Disease-Association website.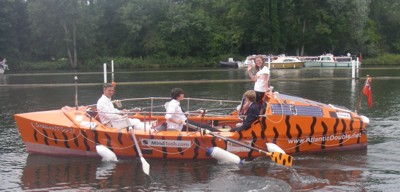 About the Challenge
Along with 17 other crews, we're taking part The Talisker Whisky Atlantic Challenge 2011, which is scheduled to start on Sunday, 4th December 2011 just outside the harbour of San Sebastian de La Gomera, a small island just west of Tenerife in the Canary Islands.
The finish is just outside Port St Charles, Barbados, some 2,549 nautical miles away as the petrel flies. As we're rowing a big cat not a bird, our actual route will be up to 1,000nm longer, as we will initially head south to pick up the trade winds, and will also likely be blown backwards from time to time.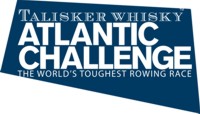 Mixed 2-person crews mostly take anything from 60 to 90 days for Atlantic crossings, and this is heavily affected by the weather conditions. In fact, it has been suggested* that only 30% of the crossing speed is attributable to rowing activity. The Canaries to Caribbean route is MEANT to benefit from trade winds at this time of year, but 9 times out of 10, the prevailing wind doesn't prevail**. The record for married couples is 53 days, which is impressive, and Tiger Team have no intention of flogging themselves in order to try and beat it! Yes, it's a race, but think of us like the fun runners in the London Marathon. We are, after all, in a tiger.
And as people often ask, no, we won't be stopping off anywhere en route for supplies (apart from anything else, if we came across any land en route w'd be uite seriously off-course), no, there isn't a yacht along side us all the time, or really any of the time, and no, we won't be rowing in a group with the other boats. Whether or not we'll be rowing in the buff is for us to know and you to wonder about.
For those who are interested and don't already know, as at November 2011, there have been 295 successful ocean rows, mostly by Brits, mostly of the Atlantic and mostly in pairs. So far 72 women have rowed an ocean, and 3 married couples have done so (two American, one British). A great many more statstics can be found on the website of the Ocean Rowing Society.
If you time it right, you may be able to watch us live at the start and finish on the following webcams. Please note that they don't always work.
* No idea who by, or whether accurately.
** Note: this statement is not backed up by any facts, but we're sure you get the gist.
Note: Our domain "Atlantic Double" is a play on words - to us river rowers, these 2-peson, 4-oared boats are like double sculls. It does not indicate any plan to row back again. Right, that's that one sorted.
Bookmark and Share:
Thanks to Herald Information Systems for hosting this site.